Carpintaría de Ribeira Francisco Fra Rico
200 years of tradition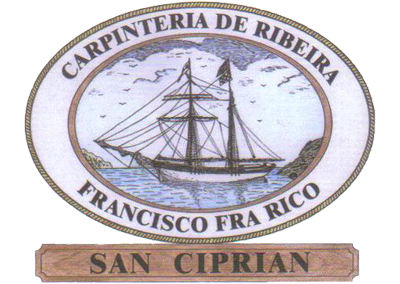 CARPINTARÍA DE RIBEIRA FRANCISCO FRA RICO
It is located on the right side of the Cobo River, at the place called Os Campos, in San Ciprián harbour (Lugo). There is more than two hundred years, with seven uninterrupted generations of wooden shipbuilders building an extensive variety of boats, both for its typology as by its size, from the tiniest as a "chalano" to the largest, a freighter of38 m length.
Beautiful sailboats with their different equipment ("quechemaríns", schooners, "pailebotes", etc.); smaller vessels of Latin sailing, steamboats, motorboats, tuna ships, "tarrafas", long liners, sailing boats, rowing boats, motorboats. Currently we have a project for the total renovation of the shipyard.
We construct all types of boats for fishing; we use the traditional fishing hulls for recreational boats, designing their interiors with all the comforts that polyester can offer and surpassing their navigability conditions, offering a longevity far superior to other materials.
We deliver or boat ready to sail, engine, electricity, navigation systems, etc.
Services
We build all kind of boats
Interior design
Traditional fishing hulls
Boat repairs
Visit us
Beiramar, s/n – San Ciprián – 27890 Cervo – Lugo
Movil: 677-595 676 / Telf. 982-594 021