Specialists in "dornas"
as tradicións e a cultura da xente do mar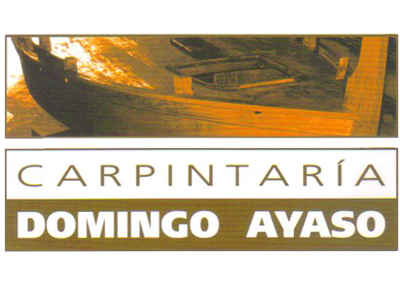 CARPINTARÍA DOMINGO AYASO
Domingo Ayaso Oujo, fourth generation of family wooden shipbuilders, begins to work in his father's workshop in the year 1964, with 14 years.
In his workshop, he is dedicated to the construction of one of the most emblematic vessels of the Galician coast: the Dorna. This boat, with its round prow protruding from the deck, a flat and small stern and a pronounced keel, evolves with a single sail of "relinga" (sometimes they put a small jib used to ride out storms) and it has two oars as support for when there is dead calm. Generally it takes two crewmen, the skipper and the sailor to the halyards. The sailor takes care of the sail hoisting, although three people can go on board with relative comfort or even the "dorna" can be patronized by a single crew member.
He constructs "dornas" of between 3 and 8 meters of length all over Galicia, Catalonia, Andalusia and Community of Madrid.
The shipyard has capacity to build between 6 and 7 per year, depending on the measures of the boat.
It complements its work of craftsman with the repair of all type of wooden boats, mainly small boats for fishing and leisure.
Construction of ships and repairs
Dornas
Carpintería Domingo Ayaso
Visit us
R/. Manuel Murguía, 13 – Aguiño – 15965 Ribeira (A Coruña)
Telf.: 981-84 05 78